Challenges -
GE/Alstom are world specialists in the development, design, testing and manufacture of transformers. These transformers, despite some weighing in excess of 400 tons, are very specialist pieces of equipment. GE/Alstom have been designing, building and testing these for years.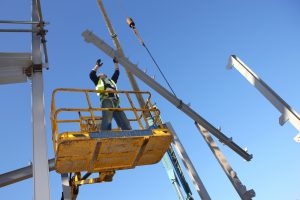 Following a review of their current site layout GE/Alstom identified a remodel of their Stafford site would allow for the construction of a large Faraday Cage which would be used for testing.
As a faraday cage on such a large scale had never been constructed, and due to the sensitive nature of the work undertaken on the site, GE/Alstom as Client also decided to act as Principal Contractor, Designer.
Solution -
Due to their knowledge of both the current site operations and knowledge of the CDM Regulations 2015 Safety Advisors were appointed to as Principal Designer and produced the Pre-construction Information pack and notified the HSE of the project. Safety Advisors assisted the Principal Contractor and Lead Designer (GE/Alstom) with specialist advise in order to meet the requirements of the CDM Regulations 2015.
Safety Advisors were site based for the duration of the project and provided the GE/Alstom induction to site operatives along with assistance in the sites compliance with the CDM Regulations 2015.
Results -
Continued compliance with statutory regulations and with the CDM Regulations 2015.
Skills -
CDM Regulations 2015
Construction Health and Safety
Principal designer