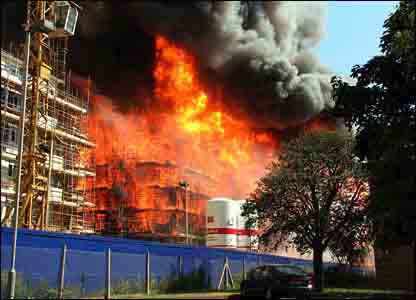 Fire Management During Construction
Safety Advisors understand that fire is a very real threat on any construction site, we have vast knowledge and experience working in this area and have been involved in some significant and unusual projects, worked closely with the HSE and the Fire and Rescue Services. 
Each year there are hundreds of fires on construction sites, potentially putting the lives of workers and members of the public at risk. Fire safety in construction is about preventing fires from starting and ensuring people's safety if they do.
Can you guarantee fire safety on any construction job site? The answer is NO, however there are steps that can be taken to ensure a safer site.
Safety Advisors can help limit the risks and possible injury and loss of life and protect against claims and financial losses. We will ensure construction projects comply with their legal duties relating to fire risks.  Fire Risk Management is relevant to all construction projects, including small refurbishment sites. 
Safety Advisors can provide the following services: 
Temporary Fire Management Plans
Fire Management Plans
Audits and Inspections
Evacuation Plans
Fire Safety Risk Assessments
Fire Stratagys
Training
If you would like further information, Call our Team on 01283 760802 or Email info@safetyadvisors.co.uk