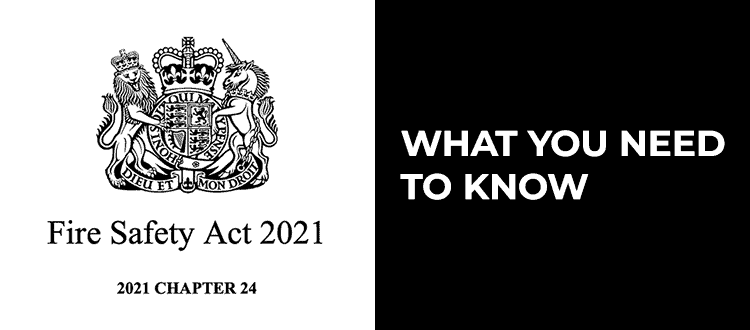 Fire Safety Act 2021
The Fire Safety Bill was introduced in March 2020 following the Grenfell Tower tragedy in June 2017. The Bill was made law on 29 April 2021.
The Fire Safety Bill was introduced in March 2020 following the Grenfell Tower tragedy in June 2017. The Bill was made law on 29 April 2021, becoming the Fire Safety Act 2021 and is a relatively short piece of legislation albeit with significance for the organisations involved in assessing and insuring fire safety risks. The Act applies to England and Wales. Separate fire safety legislation is in place in Scotland and Northern Ireland.
The Act's Provisions
The Fire Safety Act 2021 amends the Regulatory Reform (Fire Safety) Order 2005 (the "FSO") with the intention of improving fire safety in multi-occupancy domestic premises. Crucially, the external walls of a building and the fire doors to individual flats must now be assessed as part of the requirement for a fire risk assessment.
The Act requires the owners and managers of multi-occupied residential buildings to ensure that the fire risk assessments for such buildings are reviewed and updated to encompass the structure, external walls and flat entrance doors.
The specific provisions of the Act include:
The Act applies to all multi-occupied residential buildings and is not dependent on the height of the building. The Act further provides English and Welsh Ministers with a regulation-making power to amend the type of buildings the Order applies to in the future.
The FSO designates those in control of premises as the Responsible Person for fire safety; giving them a duty to undertake assessments and manage risks. The Act now requires all Responsible Persons to reduce, as well as to assess and manage, the fire risks posed by the structure and external walls of the building(s) and by individual doors opening onto common parts of the building.
The FSO was enforced by fire and rescue authorities but the Act allows these authorities to enforce against non–compliance in relation to the external walls and the individual doors opening onto the common parts of the premises.
The Act also introduces the concept of 'risk-based guidance' in order to support a proportionate approach towards assessing risk.
The Act implements the recommendations made by Sir Martin Moore-Bick in his Phase 1 report in the Grenfell Tower Inquiry and the conclusions of Dame Judith Hackitt's Review of Building Regulation and Fire Safety.
It should be noted that the Act will likely come into force fully over the course of 2021.
It is intended that Act will complement the Building Safety Act once that has passed through Parliament and obtained royal assent. On the basis of current predictions, it is anticipated that the Building Safety Act will not come into force before 2023.
Call our team on 01283 760802 to discuss your Fire Management Needs